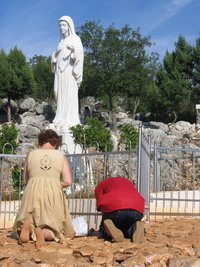 Dr. White continues to do a great job of analyzing the problems with the ecumenism communicated by Timothy George with Frank Beckwith.
http://www.aomin.org/podcasts/20090922.mp3
The moderator asked a great question of Frank Beckwith:
"During your 30 years as an Evangelical Protestant, you failed to observe the sacrament of reconciliation, and thus found yourself in a state of mortal sin; If you had died during that time, do you suppose you would have been accepted by God?"
Dr. White points out: "It is a mortal sin to not attend mass over a certain period of time; it is a mortal sin to not go to confession over a certain period of time."
Beckwith's first response: "I had never thought about that."
The questions were provided before hand, and he wanted to get this right; so he typed out his answer.
Basically, he said, "yes, God would have accepted me, because I was ignorant."
Beckwith's answer was a contradiction to Roman Catholic tradition and dogmas. Canon 21 of the Fourth Lateran Council ( 1215 AD) says that every RC must go to mass at least once a year (at Easter) and partake of the Eucharist and confess all their sins to the priest.
CANON 21
SUMMARY Everyone who has attained the age of reason is bound to confess his sins at least once a year to his own parish pastor with his permission to another, and to receive the Eucharist at least at Easter. A priest who reveals a sin confided to him in confession is to be deposed and relegated to a monastery for the remainder of his life.
Text. All the faithful of both sexes shall after they have reached the age of discretion faithfully
confess all their sins at least once a year
to their own (parish) priest and perform to the best of their ability the penance imposed, receiving reverently at least
at Easter the sacrament of the Eucharist
, unless perchance at the advice of their own priest they may for a good reason abstain for a time from its reception; otherwise they shall be cut off from the Church (excommunicated) during life and deprived of Christian burial in death.
Wherefore, let this salutary decree be published frequently in the churches, that no one may find in the plea of ignorance a shadow of excuse.
But if anyone for a good reason should wish to confess his sins to another priest, let him first seek and obtain permission from his own (parish) priest, since otherwise he (the other priest) cannot loose or bind him.
(My own emphasis)
Canon 21 says that ignorance is no excuse and yet Mr. Beckwith claimed ignorance would get him to heaven!
Earlier, the Moderator said:
"We agree that authentic faith will necessarily issue forth in obedience –"
and then he mentions
"the ground upon which one stands" - [Before a just and holy God]
Is it "Christ alone" or "Christ plus other things" – Dr. White asked the question, "Christ plus other things" - "Isn't that what the message of Galatians is all about?"
Will you stand before the Sovereign, holy God of creation, clothed in the righteousness of Christ alone? Or are you trusting in the added merit of other saints, Mary, and/or your own good works, added to faith?
"and may be found in Him, not having a righteousness of my own derived from the Law, but that which is through faith in Christ, the righteousness which comes from God on the basis of faith." Philippians 3:9
"But as to the one who does not work, but believes in Him who justifies the ungodly, his faith is reckoned as righteousness," Romans 4:5
". . . If any man is preaching to you a gospel contrary to that which you have received, let him be accursed." Galatians 1:9